---
THURSDAY - JUNE 17, 2004
Thursday - June 17 - 9:00-10:15a / [ROOM 138] / [SLIDES] / webcast /

/[TOP]
Plenary: CLAY SHIRKY
Audience:
Technical Level:
"...Since discovering the net in 1993, the things I've spent my time thinking through, working on, and writing about have varied widely.
I have been a producer, programmer, professor, designer, author, consultant, sometimes working with people who wanted to create a purely intellectual or aesthetic experience online, sometimes working with people who wanted to use the internet to sell books or batteries or banking.
While doing this work, I have always written about whatever interested me at the time: the philosophical characteristics of WAP; the change Napster portends for internet architecture; the price of information in a system with no delivery bottleneck; the approach to representation of 3D space in shoot-'em-up games; the effects of the British Empire on the use of English on the net; the particular brand of lies favored by new media marketers.
I have pursued these things with no particular goal other than clarifying for myself what it is I think. There is no grand scheme there, no central goal, no master plan..."
Some quotes from a recent article "Situated Software" on www.shirky.com:
"...Situated software isn't a technological strategy so much as an attitude about closeness of fit between software and its group of users, and a refusal to embrace scale, generality or completeness as unqualified virtues. Seen in this light, the obsession with personalization of Web School software is an apology for the obvious truth -- most web applications are impersonal by design, as they are built for a generic user. Allowing the user to customize the interface of a Web site might make it more useful, but it doesn't make it any more personal than the ATM putting your name on the screen while it spits out your money..."
"...So what happens next? If what I'm seeing is not transitory or limited to a narrow set of situations, then we'll see a rise in these small form-fit applications. This will carry some obvious downsides, including tying the developers of such applications to community support roles, and shortening the useful lifespan of the software made in this way.
Expectations of longevity, though, are the temporal version of scale -- we assume applications should work for long periods in part because it costs so much to create them. Once it's cheap and easy to throw together an application, though, that rationale weakens. Businesses routinely ask teams of well-paid people to put hundreds of hours of work creating a single PowerPoint deck that will be looked at in a single meeting. The idea that software should be built for many users, or last for many years, are cultural assumptions not required by the software itself.
Indeed, as a matter of effect, most software built for large numbers of users or designed to last indefinitely fails at both goals anyway. Situated software is a way of saying "Most software gets only a few users for a short period; why not take advantage of designing with that in mind?"
This, strangely, is a kind of progress, not because situated software will replace other kinds of applications, but because it mostly won't. For all the value we get out of the current software ecosystem, it doesn't include getting an application built for a handful of users to use for a few months. Now, though, I think we're starting to see a new software niche, where communities get form-fit tools for very particular needs, tools that fail most previous test of design quality or success, but which nevertheless function well, because they are so well situated in the community that uses them."
Clay Shirkey
clay@shirky.com
---
Thursday - June 17 - 10:30-11:30a / [SLIDES 1 2] / webcast /

/[TOP]
Wireless Policies and Network Lockdown: Can We, Should We?
Audience:
Technical Level:
This program will focus on restricting access to computing resources that are generally "unlocked" and discuss the implications of decisions
to lockdown a computer or network service. We will begin by presenting a variety of existing restrictions and develop several broad categories of access restriction ranging from kiosk to unlimited workstation.
Discussion will include various technical methods for imposing rules on users. Finally we will consider the practical, day-to-day effects, the
larger social implications and non-technical, social, methods of imposing restrictive policies. Goals: Participants will become familiar with several technical methods for restricting resources and will become aware of non-technical effects of restrictions.
Scott Matheson
Reference and Government Documents Librarian
Lillian Goldman Law Library, Yale Law School
203-432-6759
s.matheson@yale.edu
Deb Ranard
Director, Law Technology
Capital University Law School
614-236-6586
dranard@law.capital.edu
---
Thursday - June 17 - 10:30-11:30a / [SLIDES] / webcast /

/[TOP]
THE SCOUT PORTAL TOOLKIT FOR WEB/DATABASE LEGAL MATERIALS
Audience: faculty, librarians
Technical Level: low
The Scout Portal Toolkit is used to provide web based databases of legal materials. There are many ways for the technologically sophisticated and the well
funded law schools to create web based databases of useful legal material but there are not as many for those individuals or groups who lack technical expertise or lack funding to obtain those to do the same thing. The Scout Portal Toolkit offers a way for the latter individuals and institutions to make useful databases available on the web.
My web based database is Law Scout http://lawscout.uakron.edu/ and here is a blurb I received...
Legal Pathfinders
New Resource, Law Scout Takes to the Web <http://lawscout.uakron.edu/> This "just announced" resource is the work of law librarian and law
professor, Paul Richert, at the University of Akron Law School. It uses software from the Internet Scout Project's Portal Toolkit . Law Scout provides access
(direct links) to pathfinders from law schools and other institutions. New material is being added on a regular basis. More information and a
few caveats can be found in the announcement section at the top of the site. Kudos to Paul on a job well done. This site and the materials it
provides access to has the potential to save you a great deal of time when doing legal research.
Paul Richert
Law Librarian and Professor of Law
The University of Akron School of Law
330-972-7330
richert@uakron.edu
---
Thursday - June 17 - 10:30-11:30a / [SLIDES] / webcast /

/[TOP]
SCRIPTING 101 FOR NETWORK ADMINISTRATORS
Audience: Network adminstrators
Technical Level: High
How can scripting help the network administrator? What kind of utilities can you make out of scripting using the built in features of Windows 2000/XP. Talk about the use of ADSI, WMI, WSH, VB, ASP.
Jim Kent
Network Administrator
Ave Maria School of Law
734-827-8085
jjkent@avemarialaw.edu
---
Thursday - June 17 - 10:30-11:30a / [SLIDES] / webcast /

/[TOP]
Winning Litigation through Strategic Profiling - CourtLink Strategic Profiles
Audience:
Technical Level:
Today's litigation calls for a more effective and efficient approach to client representation during discovery. As corporate counsel increase their litigation budgets, they are also becoming savvier in their selection of primary counsel - focusing on counsel who demonstrate an ability to reduce costs and strategically handle the challenges associated with discovery. To this end, legal professionals are recognizing the importance of conducting investigative research during discovery.
The vast amount of information available online, both free to the user and by subscription, can make such efforts difficult. Ultimately, the overwhelming number of search engines and other tools can render the researcher less productive than hoped. LexisNexis understands the frustration experienced by researchers and has responded by creating a new tool that makes such investigation more effective and efficient. In particular, LexisNexis has unveiled a litigation profiling tool that leverages court records information to uncover the full litigation history of the key players in litigation - CourtLink Strategic Profiles. The ability to profile a judge, opposing counsel and litigants litigation history is increasingly becoming a critical component of the discovery effort. This program provides exposure to this new technology and offers real best practices from firms throughout the country that are enhancing their approach to litigation through strategic profiling.
Kevin Stehr
Vice-President Strategic Planning
LexisNexis CourtLink
---
Thursday - June 17 - 10:30-11:30a / [SLIDES] / webcast /

/[TOP]
Just the Fact's Ma'am? An Activity-Theoretical Approach to Legal Information Retrieval Performance
Audience: Faculty and Law Librarians
Technical: Low
Despite widespread availability of information retrieval systems in law, evaluation of large commercial legal information retrieval systems (such as Lexis and Westlaw) has been problematic. This session describes a preliminary attempt to develop an alternative method of legal information retrieval evaluation based upon Activity Theory. Law school Lexis and Westlaw users were examined. The data was interpreted with a focus on breakdowns in user interaction with the system. An easy to administer methodology which librarians can use to get a feel for how their information systems are performing for their users will be discussed.
Yolanda Jones
Assistant Director for Electronic Information Services
Villanova Law Library
610-519-7235
yjones@law.villanova.edu
---
Thursday - June 17 - 10:30-11:30a / [SLIDES] / webcast /

/[TOP]
WHY EVERY FACULTY MEMBER SHOULD AUTHOR A CALI LESSON
Audience: law faculty
Technical Level: low
This session flips the usual discussion of how the use of CALI lessons improves one's teaching and discuss instead how authoring CALI lessons improves one's teaching. Based on my experience authoring CALI lessons, I will talk about how writing those lessons improved my teaching by forcing me to deal fully with the following issues in a systematic way:
Organization: How things best fit together; what the sequence of
topics should be; what background is needed to tackle a particular topic

Importance: What are the major points we want students to retain?
What's the relative importance of various topics? What can safely be
omitted? What am I omitting that I shouldn't?

Student errors: How are students likely to misunderstand particular
topics and why? What wrong answers are they likely to come up with and
how should I anticipate that? How should I deal with their
misunderstanding?

Approach: How should I approach particular topics? What's best
handled by lecture? What type of questioning works best for each topic?
How should I formulate those questions? What are good and bad
hypotheticals and why?

Detailed understanding of a topic: All of us have little gaps in
knowledge because we don't teach particular subtopics. Authoring allows
us to fill those gaps and decide if they really are important enough to
exclude.
C. Steven Bradford
Earl Dunlap Distinguished Professor of Law
College of Law
University of Nebraska Lincoln
(402) 472-1241
sbradford1@unl.edu
Robert Lind
professor of law
Southwestern university school of Law
[phone]
rlind@socal.rr.com
mary lafrance
professor of law
university of nevada las vegas william s. boyd school of law
[phone]
lafrance@ccmail.nevada.edu
---
Thursday - June 17 - 1:00-2:00p / [SLIDES] / webcast /

/[TOP]
How a Law School's High-Tech Courtroom Can Be Turned Into a Valuable Classroom Experience
Audience:
Technical Level:
This presentation seeks to share the ways in which the Courtrooms and ancillary technologies have contributed in the incorporation of Court
Visits to lessons offered in courses across the curriculum at Univ. of Maryland School of Law. This presentation will also share how the high-tech
Courtroom has been turned into a training lab for the Washburn School of Law Trial Advocacy Center to teach students effective advocacy skills using
technology as a critical presentation tool.
Brent L. Johnson,
Instructional Technology Librarian
Washburn University Law Library
785-231-1010 X 1778
brent.johnson@washburn.edu
J. Manuel Ocasio
Associate Director, Instructional Technologies
University of Maryland School of Law
410-706-1213
MOcasio@law.umaryland.edu
---
Thursday - June 17 - 1:00-2:00p / [Site | Paper] / webcast /

/[TOP]
Graphics Tips and Techniques for CALI Lessons (and Other Applications)
Audience: All
Technical Level: Medium
This program will present an overview of and detailed techniques for both importing graphics into CALI lessons and creating graphics for CALI lessons from digitally scanned materials. While focusing on using graphics in CALI Author, the techniques covered will be useful for anybody who wants to learn more about using graphics in general.Specific topics will include:
Scanning - the jargon, settings, and what the numbers mean
Graphics and the CALI Author software - best image sizes, resolutions, and formats
Displaying text documents - how to enhance the readability of scanned pages of print
Screen Captures - importing images of sample web pages and software screens / using screen captures as a graphics conversion shortcut
The program will include sample portions of actual CALI lessons and demonstrations of the techniques discussed using Adobe Photoshop. A hand-out will be provided with a detailed set of step-by-step instructions for the tips and techniques discussed in this program.
LEARNING OUTCOMES/GOALS:
Audience members will be able to use the knowledge gained from the presentation and the hand-out to perform the techniques discussed when working with graphics in CALI lessons or in other applications and settings.
Brian Huddleston
Senior Reference LibrariaN
Loyola University New Orleans School of Law
504-861-5486
bhuddle@loyno.edu
---
Thursday - June 17 - 1:00-2:00p / [SLIDES] / webcast /

/[TOP]
Swiss Army Knife Portal: Vanderbilt University Law School Intranet II Built on Microsoft SharePoint Portal Server 2003
Audience: All
Technical Level: Medium
Instead of the usual habit of saving documents to a hard drive, Microsoft wants you to place them in server-based collaborative "work spaces",with document control features,that can be accessed by multiple people.

http://zdnet.com.com/2100-1104_2-5185453.html
By David Becker
CNET News.com
What is a portal really? We'll show you what we think a portal should be. The Vanderbilt Law School is deploying its second generation Intranet Portal built on Microsoft SharePoint Portal Server 2003 August 1st, 2004. We also have built a custom SQL data warehouse and various applications that are accessed through the portal. We call the complete suite of applications and data warehouse PECO. (The PE stands for people and CO stands for courses.) We will briefly demonstrate how we leverage PECO data through the portal. We will strive to make this presentation as much as a demonstration as possible of the many different features, services, and customizations, that the Law School's Portal has to offer. Some of those are as follows:
Law School data consolidation built on MS SQL.
In-house People/Course/Room/Event scheduling Web based data entry and reporting Application (PECO).
Utilize existing AD directory infrastructure for authentication and authorization.
Built in Content management tools.
Document collaboration.
Document Control.
Document versioning.
E-portfolios.
Centralized and current Law School forms, policies, and procedures.
Extensive Search and indexing of internal and external resources.
Simple web based remote access to all services without a VPN.
One site with Different views and targeted content based on audiences.
Build a sense of community.
Extranet access for Law School and non law school colleagues for document.
Collaboration. (books, articles, etc….)
Push technologies.
Targeting content to audiences.
Personal customizable "My Site" in addition to main portal.
Office 2003 Integration.
Ad hoc Workspace creation.
Tech Training resources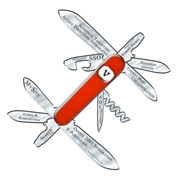 Todd Scot
Assistant Director, Information Technology Services & Solutions Vanderbilt University Law School
615-322-2885
todd.scot@vanderbilt.edu

Chris Bransford
Computer Systems Administrator
Vanderbilt University Law School
615-322-3452
chris.bransford@vanderbilt.edu

---
Thursday - June 17 - 1:00-2:00p / webcast /

/[TOP]
Leveraging the Latest Enhancements to lexis.com
Audience:
Technical Level:
Did you know that you can now run searches based on a single LexisNexis headnote? Or access prior research activity on lexis.com up for up to 30 days? This session will highlight these and other ease of use improvements recently added to LexisNexis at www.lexis.com . These productivity enhancements will be showcased in the context of common research questions that law students face.
Don Lodge
Product Manager
LexisNexis
---
Thursday - June 17 - 1:00-2:00p / webcast /

/[TOP]
StatutesPlus
Audience: Faculty and Librarians
Technical Level: Low
StatutesPlus is the most integrated online system for thorough, on-point analysis. Now you can find, verify, read and interpret statutes with amazing efficiency. Notes of Decisions, Legislative History, Library References and so much more are just a click away. Learn how the power of the West research system is multiplied for complete statute interpretation in significantly less time than on any other service.
Scott Wilkins
Academic Account Manager
Thomson/West
---
Thursday - June 17 - 1:00-2:00p / [SLIDES] / webcast /

/[TOP]
BOOKLOCKER AND ELECTRONIC E-BOOKS FOR LAW STUDENTS
Audience: All
Technical Level: Low
Over the past 4 years, we have been searching for a way to securely distribute course books, packs and other digital material for our students. Up until recently, we have hit numerous barriers. Publishers have been reluctant to provide digital content because of the numerous copyright, distribution and usage problems.

The past 2 semesters we have partnered with MDRM, Dell and numerous publishers in piloting a digital rights management device codenamed "BookLocker" in our College of Law.
" BookLocker" is a next-generation infrastructure that allows a secure solution for publishers to distribute, manage and update digital content while providing users a portable, friendly experience spanning multiple electronic devices including laptops, desktops, PDA's, tablets, smart phones and televisions.

We are encouraged by the results and are evaluating various implementation strategies for our 1st year law students in Fall of 2004. We think "Booklocker" could positively impact legal education in the very near future.

Jennifer Moore-Evans
Director of Mobile Computing
Univeristy of Denver
303-871 2113
jmooreev@du.edu
---
Thursday - June 17 - 2:30-3:30p / [SLIDES] / webcast /

/[TOP]
Integrating Open Source Technologies: Making the Switch
Audience:
Technical Level:
We are going to discuss our analysis of our old information system and the upgrades that ensued, going in-depth into the decision making process and some of the technical problems that we encountered.
Matt Kurpiewski
Desktop Support / Computer Lab Manager
University of Pittsburgh School of Law
412-624-7686
kurpiewski@law.pitt.edu

Jamie Butler
Manager of Information Technology
University of Pittsburgh School of Law
412-648-1349
butler@law.pitt.edu
---
Thursday - June 17 - 2:30-3:30p / [SLIDES] / webcast /

/[TOP]
The Reality and the Promise of Tablet PCs: Educational Implications
Audience:
Technical Level:
This session will highlight current and anticipated tablet PCs features that may have application for students and/or instructors in educational
settings. The tablet PC is a relatively new technology, first introduced in 2001, that is slowly having its rough edges worked through successive
hardware and software generations. It isn't clear yet how soon this technology will achieve anticipated market acceptance or what form it
will have when widespread use of the technology arrives. This session will examine: (1) some features of the Tablet PC OS; (2) typical
hardware configurations; (3) some of the new tablet oriented software applications; and (4) the educational potential for this technology as
it continues to evolve.
Larry Farmer
Professor of Law
Brigham Young University School of Law
801-422-2423
FARMERL@lawgate.byu.edu
June Hsiao Liebert
CIO and Lecturer
The University of Texas School of Law
512-232-2736
jliebert@law.utexas.edu
---
Thursday - June 17 - 2:30-3:30p / [SLIDES] / webcast /

/[TOP]
Asynchronous Legal Research Courses: Two Case Studies
Audience:
Technical Level:
Ms. Good's presentation will demonstrate the educational technologies used to teach an Online Immigration Law Research Seminar taught in the fall of 2003 at Boston College Law School. The course took place within WebCT and relied on the discussion board, video, readings, and problem sets to deliver the course content. The presentation will detail the pedagogical and technological issues raised when creating an online course. Although the online course covered immigration research materials, the instructor's approach may be applied to any subject. The presentation will also cover compliance with the ABA's guidelines on distance education.
Ms. Buxton's presentation will cover the areas of the technology and its application, pedagogical issues, and the specific development, implementation and teaching of the online Advanced Legal Research unit. The technology utilised is a version of a more generic educational technology called InterLearn, which has been specifically tailored for Law (and is called LEX), and the online unit we would discuss as the
example of its implementation within the Monash Law undergraduate program is called Skills, Ethics and Research D: Advanced Legal Research.
Irene R. Good
Educational Technology Specialist / Legal Information Librarian
Boston College Law Library
617 552-2897
irene.good.1@bc.edu
Kathy Buxton
I.T. & Resources Manager, Faculty of Law
Monash University
61 3 9905 3372
Kathy.Buxton@law.monash.edu.au
---
Thursday - June 17 - 2:30-3:30p / webcast /

/[TOP]
DEVELOPING MODULAR SCRIPTED DATABASE-BACKED WEBSITES WITH PHP/FUSEBOX
Audience: Web Developers
Technical Level: Medium
The session will look at the development of an interactive website on the LAMP platform using PHP Fusebox as the development platform and CSS for layout control. I will touch on the use of CVS to manage code, explain the security model for the site, review specific examples of how requiring registration is used to drive content presented to visitors, and demonstrate the power of CSS in controlling the look of the site. I will expose and demonstrate the function of the working code for the CALI website, including visitor interactivity and database functionality. Those with a background in PHP, MySQL, CSS, and Apache will get the most from the session.
Elmer Masters
Director of Internet Development
Center for Computer-Assisted Legal Instruction
404-712-2211
emasters@cali.org
---
Thursday - June 17 - 2:30-3:30p /webcast /

/[TOP]
The West Education Network – Introductory Session
Audience: Faculty and Librarians
Technical Level: Low
The West Education Network (TWEN) is an electronic extension of the classroom, integrating academic tools, Westlaw research, and other resources in an online environment. TWEN technology can accommodate the widest range of teaching styles and subject concentrations. It is also sufficiently pliable for a multitude of activities, including faculty publishing materials, grading, quizzing, submitting and revising assignments, distributing information, emailing, calendaring, and much more. Westlaw's Anna Guerra will demonstrate how to create an online course using TWEN. Professor Steve Nickles will share his experiences as a TWEN user.
Anna Guerra
Westlaw Academic Account Manager
Thomson/West
Steve Nickles
Professor of Law
Wake Forest University School of Law
---
Thursday - June 17 - 2:30-3:30p / [SLIDES] / webcast /

/[TOP]
Will They Come Back Again?: The Offshore Outsourcing of IT Jobs
Audience:
Technical Level:
This session explores the dimensions of the offshore outsourcing of US IT jobs to India, China and other countries. What impact will this movement among American technology companies have upon the market for IT jobs and wages for IT workers? How will law school IT jobs be affected by this growing trend? Mr.. Marcus Courtney, President of the Washington Alliance of Technology Workers, will be exploring these and other issues.
Robert M. Linz
Associate Library Director and Information Technology Coordinator
Ave Maria School of Law
734-827-8037
rmlinz@avemarialaw.edu
Marcus Courtney
President
Washington Alliance of Technology Workers
courtney@washtech.org
---
Thursday - June 17 - 4:00-5:00p / [TOP]
CYBERETHICS
Audience: All
Technical Level: Low
As a computer user, what risks do you assume when something goes wrong? If someone pretends to be you, and sends email or spreads a virus as if they were you, are you responsible for damages?
As an IT professional, how do you treat personal or sensitive law school information or email? Is it ever "ok" to read someone's
personal email.
Should your law school "police" what programs are running on a law school computer?
Is it unethical to distribute a computer program that seems to do one thing, but actually does something else (collects personal data)?
Is hacking or distributing viruses illegal, immoral, or unethical? How do you punish those who break the rules?
Finally, what are some of the relevant facts that help make for good decision making in CyberEthics?
These and related topics will be discussed in this program.
Mark Folmsbee
Associate Director
Washburn University School of Law
785-231-1010 ext. 1041
mark.folmsbee@washburn.edu
---
Thursday - June 17 - 4:00-5:00p / [SLIDES] / webcast /

/[TOP]
Legal Learning Objects
Audience:
Technical Level:
Learning Objects are units of different types of educational materials that can be used "as is" or combined with other objects to produce high quality teaching and learning products. Learning Objects are intended to be "reusable" and could easily be combined with other objects to produce instructional components such as lessons and exercises. These objects can be audio and video clips, simulations, graphics and animations, text files, PowerPoints and web sites or any other digital media. We will present a model for a Legal Learning Objects Library or Repository where these objects can be shared between participants with the aim of producing high quality instructional materials. The library would also include tools, templates, tips and hints for developing different types of learning objects.

Mohyeddin Abdulaziz
Director of Information Technology
University of Arizona James E. Rodgers School of Law
520-621-3053
abdulaziz@law.arizona.edu
Paul Kealey
Internet Developer
University of Arizona
JAMES E. Rogers College of Law
(520) 626-7258
kealey@law.arizona.edu
---
Thursday - June 17 - 4:00-5:00p / [SLIDES] / webcast /

/[TOP]
CODEC: CONSORTIUM FOR DISTANCE EDUCATION FROM CALI
Audience: All
Technical Level: Low
This summer, CALI is launching a new initiative called CODEC: Consortium for Distance Education from CALI. The goal is to create a web presence where law schools can post and find courses that are being offered for distance legal education between and among law schools. CODEC will also offer a series of articles on the codec website at codec.cali.org and regional workshops in how to create or convert courses into distance legal education. This session will cover the reasons behind the creation of CODEC and talk about some of the possible future areas that CODEC will address.
John Mayer
Executive Director
Center for Computer-Assisted Legal Instruction
312-906-5307
jmayer@cali.org
---
Thursday - June 17 - 4:00-5:00p / webcast /

/[TOP]
Interactive Tools for Learning Legal Research
Audience:
Technical Level:
LexisNexis offers students a wealth of interactive tools and programs to help them deepen their research skills. Learn more about our interactive tutorials, LexisNexis skills certification program, law school home page and other tools that can help students better understand the legal research process and introduce them to search techniques that will help them complete their research assignments in the most efficient manner.
Joan Liguoro
LexisNexis Account Representative
LexisNexis
---
Thursday - June 17 - 4:00-5:00p / webcast /

/[TOP]
Integration Solutions
Audience: All
Technical Level: Low to Medium
Integration Solutions tailors the features of Westlaw to specific research needs and integrates them to a web-based platform for user-friendly access and more efficient research. Integrate Westlaw functionality for your law school websites and web-based course management tools such as TWEN or Blackboard, create links to documents, search results, databases/database search boxes, and/or customized Westlaw pages. Current Awareness searching is simplified with West IntraClip and WestCitelink, included in the Westlaw Integration Solutions suite of products.
Wayne Luethmers
Westlaw Technology Manager
Thomson/West
---
Thursday - June 17 - 4:00-5:00p /[ROOM 115] / [SLIDES] / webcast /

/[TOP]
WELCOME TO THE BUILDING COMMITTEE
Audience:
Technical Level:
You volunteered to be on the building committee for your new law school project. Good for you! Now what? Jonathan will discuss the design process and how the architect and the user group work together. Topics will include an overview of the different phases of design with an emphasis on understanding project organization, establishing clear goals, incorporating diverse interests, communicating your priorities, documenting decisions, and making rational trade-offs when budget realities bite. Jonathan will draw from his experiences during the planning and design of the William H. Gates Hall School of Law.
Jonathan Franklin
Associate Librarian, Library Services
University of Washington School of Law
206-543-4089
jafrank@u.washington.edu